Archive for January, 2014
Elected Officials in Pittsburgh Join GCA in Leading Affordable Care Act Outreach and Enrollment
January 31, 2014
Elected Leaders Across Pennsylvania Team Up With Get Covered America to Spread Word About Affordable Health Coverage
By Paydon Miller, Enroll America Pennsylvania Communications Lead
PITTSBURGH, PA – With just over two months left in open enrollment, Get Covered America in Pennsylvania has teamed up with over twenty elected officials across the state to spread the word about the new health care options and financial assistance now available to consumers under the Affordable Care Act. In Pittsburgh, Get Covered America has partnered with State Representatives Erin Molchany and Dan Frankel, and other elected officials, to inform uninsured residents about the Health Insurance Marketplace through enrollment events, informational sessions, and canvasses.
"As we work with Pittsburgh's uninsured, the biggest obstacle we encounter is the perception that these plans are simply not affordable," said Bill England, Pennsylvania State Director of Get Covered America. "We're teaming up with these elected leaders to let folks know that financial assistance is available to help them pay for their plans.  Once they understand that they can afford coverage, the uninsured are eager to learn more and to take advantage of their new coverage options."
A recent survey released by Get Covered America showed that perceived lack of affordability – not healthcare.gov glitches or other technical problems – remains the largest barrier stopping the uninsured from enrolling in affordable coverage. The survey showed that an astounding 69% of the uninsured were unaware that financial assistance is available to help them pay for the plan they choose. In fact, 76% of Pennsylvanians who enrolled in the Health Insurance Marketplace received financial assistance.
"With an open-door office located on a neighborhood main street, I meet people all the time seeking help with all levels of government," said Representative Erin C. Molchany (D-Allegheny), who has held information sessions and knocked on doors for the Get Covered Campaign.  "I believe in affordable, accessible healthcare for everyone and have made my office a resource center to help people make their decision to get covered."
Representative Molchany's office continues to offer in-person assistance and has begun to focus on reaching out to young people before they turn 26 to let them know how to begin comparing their health insurance options.  She was recently asked by Secretary of Health and Human Services Kathleen Sebelius to share these initiatives with other state representatives from around the country.
"Some of the hardest phone calls I've received in the decade I've been in office are from individuals without insurance, who have no way of getting it," said Representative Dan Frankel, another key leader who will be holding at least five community enrollment events across his district before the March 31 deadline to get coverage. "Now, finally, I'm able to tell people that we can help. You can bet that I'm doing my best to make sure that my constituents know about the Affordable Care Act, and that we do everything we can to help them get the health insurance coverage they've been waiting for."
Moving forward, Get Covered America in Pennsylvania will continue hosting enrollment events with elected officials to connect the uninsured with information and in-person assistance so they understand their coverage options and how they can protect their families. Get Covered America has also teamed up with places of worship, unions, community health centers, and more to ensure that they can reach every uninsured Pennsylvanian.
---
Becoming a Fellow is the best thing I ever did!
January 29, 2014
When I was in college I had planned to go into journalism like my parents, but then I had this opportunity to get involved in my community through a fellowship on a political campaign in 2008 just a few hours a week.
What started out as an internship quickly became a career change.  I haven't looked back. I saw firsthand how working neighbor to neighbor, we can make a huge difference in people's lives. That's why I love the work I do here at Get Covered America as an Organizer in Tucson. We are changing people's lives for the better.
Here in Arizona there are over a million of our neighbors who lack affordable health coverage, but the Health Insurance Marketplace changes all that. Not only are there new options, but most of these folks can qualify for some type of financial help to bring the cost of their monthly premium down. Also, there is free, professional help available to find the right plan for their family. Our challenge is this:  not enough people know about it, but that's where you come in!
Being a Fellow changed my life, but you don't need to want a career change to take advantage of this opportunity. Our Fellows are making a huge impact in communities across the state by holding events with volunteers to inform consumers about the marketplace, connecting folks without insurance to free professional help, and spreading the word through friends and family.
We all know someone who lacks insurance, and this Fellowship is a great way to help all of our neighbors get the information they need to get covered.
---
Great Energy, Powerful Stories & More Texans Joining the Cause
Field organizers from all over Texas got together earlier this month for four days of intensive training. Veteran staff were joined by 15 new field organizers to share best practices and focus on how to get the word out about the new health insurance options now available in Texas.  A diverse group with a wealth of experience and knowledge, the organizers delved into the nuts and bolts of  reaching out to uninsured Texans.
Aiming to connect with thousands of uninsured Texas families before March 31, these organizers have their work cut out for them. During the training, many organizers shared personal stories about family, friends, and neighbors affected by a lack of health coverage and how the new insurance options available under the Affordable Care Act make a difference.
Members of our Texas team are looking forward to letting Texans know they have more choices for better health care and greater freedom to change jobs or pursue dreams, with the financial security that comes with that.
Field organizers are working hard to spread the word across the state, and you can join them. Here are three great ways:
Join the fun, and come volunteer or be a fellow with our campaign.
---
MLK Weekend – GCA Turns Words into Action Across Pennsylvania
January 28, 2014
"Of all the forms of inequality, injustice in health care is the most shocking and inhumane." –Dr. Martin Luther King, Jr.
Last weekend, Get Covered America held a Weekend of Action surrounding Martin Luther King, Jr Day. Given Dr. King's leadership on health care access issues, we felt it was especially important to focus on engaging with the uninsured over this weekend to reach as many of Pittsburgh's uninsured as possible and ensure they know about their new coverage options.
During the MLK Weekend of Action our teams ran or co-sponsored five events, including three enrollment events, a phone bank to connect with people who told us they needed help enrolling, and a tabling event at a monthly food bank. Consumers really appreciated the work that we were doing in the community, and many asked when we would come back to either educate them further or help enroll their friends and family members. But two experiences really stick out in my mind: First, I met with many mothers who were concerned about their uninsured children and wanted to make sure that they were protected. Secondly, I had multiple conversations with people who suffer from preexisting conditions that wanted to know how the law could help them.
Overall, our Weekend of Action was a huge success! On Sunday, we held an enrollment at the Rodman Street Baptist Church and were able to start 14 applications and get the uninsured/underinsured one step closer to coverage. We were also able to connect with seven successful enrollees this weekend who now have the peace of mind that comes with coverage.
The success of these events really showed me the importance and impact of great community partnerships. For Get Covered America, partnerships are at the heart of our success and great community events like these help us connect with the uninsured, community leaders, and future partners. It was a thrill to see my volunteers find their niche and thrive as we educated the public about the Affordable Care Act and what it means for them. This weekend was about helping those people connect with people and information that could help them get them affordable care, and we were successful.
-Gabriella Jones Casey, Get Covered America Pennsylvania Field Organizer
---
Welcome to Team Pennsylvania!
Welcome to the Get Covered America Pennsylvania page! Here on this page you will find resources to learn more about the ACA and enroll in quality coverage, get updates on the activities and plans of the GCA Team PA and our partners, and learn ways to connect with us and get involved.
We are a national, nonpartisan campaign that is focused on educating consumers about the benefits of health coverage and the new health insurance options that are available under the Affordable Care Act. With operations in eleven states (AZ, FL, GA, IL, MI, NC, NJ, OH, PA, TN, and TX), our grassroots team is powered by passionate staff and volunteers with one motivating goal: to give Americans the information they need to choose an affordable health insurance plan that's right for them and their families.
The Get Covered America team has been working on the ground since July 1st, and in that time we have grown to a team of 14. We are working hard in communities across Pennsylvania to let people know that quality, affordable health coverage is available – and financial assistance is available to help you pay for your plan.  We have opened offices in Philadelphia and Pittsburgh, and continue to connect with other places across the commonwealth. We are here to help!
There are more than 1.2 million eligible uninsured people in the Commonwealth – and that number is decreasing every day! That's why we're working with volunteers and community organizations to make sure every uninsured or underinsured Pennsylvanian knows they can enroll in affordable coverage though www.healthcare.gov, over the phone, or in-person with enrollment assisters. Get Covered America is here to help you understand the Marketplace and get the coverage you deserve.
Will you join us in the exciting and important work of finding and assisting those without health coverage?  The Health Insurance Marketplace closes March 31st, so folks need to begin exploring their options today. Together, we can change lives as people #GetCovered and gain the peace of mind and security that comes with quality, affordable coverage.
Sincerely,
Bill England, Pennsylvania State Director
---
Mary Got Covered for the First Time in 10 Years
Mary is a volunteer with Get Covered America in Texas. This is her story.
In my last visit to my local clinic, my doctor said he could hardly believe I was walking given the issues I've been having with my knees. I'm 63 years old, and I've been without insurance for a decade. It was starting to seem like I would just have to live with that fact until I qualified for Medicare. In my last job as a teacher, I felt lucky to have benefits. But since leaving that job, I've been working part time as a home health worker, and insurance has been out of reach for me.
That's why I was eager to see what plans were available in the Marketplace when it opened in October. With the encouragement of the Get Covered America staff and some research I did on my own, I signed up for a silver plan at just $64 a month — and I even qualified for financial help to pay my monthly insurance bill.
My son is in a similar position. He's 33 years old and takes college classes while working part time without employer benefits. We sat down and I helped him sign up for the very same policy for just $20 a month. That's just $5 a week! Can you believe it?
I can't describe the sense of relief and peace of mind I feel now that I'm covered. And I know it will mean a lot to people in my community who are in a similar position. That's why I volunteer with Get Covered America. Twice a week, I sit at my local library here in Waco, Texas, and I help people in my community find answers to their questions about health insurance. Most people I talk to want to know what it will cost. I like to tell them, "Don't listen to me, see for yourself." Using the Get Covered Calculator, I can show my neighbors the savings they can find in the Marketplace right there on the spot.
I spend my time making sure others are aware of this because I know what's at stake. I'll keep spreading the word and I hope you will consider helping too.
---
Getting Covered Means Preventive Care to Save a Life
Betty, a Houston child care worker, always remembered to get her annual check-ups and well-woman visits, knowing her family counted on her to stay healthy. Then, a few years ago, she became uninsured. Her trips to the doctor lapsed, and she started to get sick. On a visit to the emergency room, a scan discovered Betty had a tumor the size of a grapefruit. The cause was cervical cancer. Doctors told her, if all went well, they could help Betty survive without amputating her leg. And that's what they did. But between the financial hardship of paying for treatment she needed and the uncertainty surrounding getting care in time to save her leg and her life, that diagnosis brought incredible stress for Betty and her family. "It was more than anyone should have to bear," she says.
January is Cervical Cancer Awareness Month, and that has special relevance here in Texas. Texas has one of the nation's highest rates of cervical cancer and one of the highest rates of deaths from cervical cancer. We also are the state with the most uninsured people. Not having health coverage can mean missing out on preventive care, like pap smears that screen for cervical cancer. These screenings save lives, and women are doing better and spared from experiencing advanced-stage cervical cancer because of them. In fact, if enough women could get the routine preventive care they need, cervical cancer could be headed to the dustbins of history.
Unfortunately, being uninsured too often means later diagnosis for the slow-growing cancer—and greater risk for women. Not having health coverage is second only to age as a risk factor for advanced-stage cervical cancer.
The great news is the Affordable Care Act is making coverage available to millions of Texans. That means women like Betty can see a doctor early, and not have to wait until they've gotten sick to get care they need. And since well-woman visits and routine pap smears are fully covered, women can get life-saving screenings with no out-of-pocket costs. What's more, financial assistance is available to help Texans pay for the coverage that can give them peace of mind: in fact, three out of four Texans who have enrolled in the health insurance marketplace so far got this financial help.
Our Texas Get Covered America team has been out spreading the word about the new health insurance options and what they mean for women and families. Check out our Get Covered Calculator for an idea about the health insurance choices available to you, and use our locator tool to find in-person assistance with someone who can help you get covered now.
---
MLK Week in Ohio
January 27, 2014
"The weather was cold but their commitment was warm."  – Johnnie Christian, Deputy Organizer
This week as we marked Martin Luther King Day, Ohio was again plunged into frigid temperatures. Yet, hundreds of volunteers spread out across our state to talk to their friends and neighbors to make sure they had access to affordable health coverage. To start the weekend, we had a great Op Ed written by our State Director published in the Plain Dealer talking about the connection between Dr. King's legacy and the work we're doing to ensure every Ohioan has health coverage.
To end the weekend, Tuesday Congresswoman Joyce Beatty dropped by our office in Columbus to thank the volunteers for the impact of their work to help get every Ohioan covered.
Thanks for helping us make this week so successful. And thanks for sticking with us for the next couple months so we can get as many Ohioans as possible covered.
---
GCA Organizers and Volunteers Honor MLK's Legacy During Weekend of Action
January 24, 2014
This Martin Luther King Weekend of Action, Get Covered America Organizers and volunteers honored MLK's legacy of activism and equality by holding events across the state to provide outreach and education on the Affordable Care Act.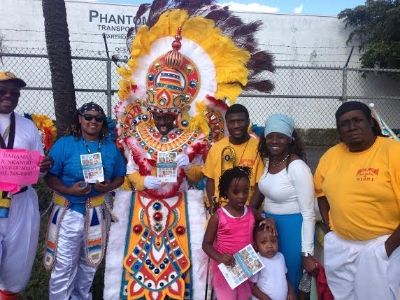 In a time when millions of American's have to choose between putting food on the table and purchasing much needed medication, the Get Covered America campaign is helping consumers find new options. Now, they don't have to neglect preventative care due to the inability to afford quality care.
During the Martin Luther King Weekend of Action, Get Covered America Organizers and volunteers honored MLK's legacy of activism and equality by holding events across the state; providing outreach and education on the Affordable Care Act. Gone are the days of being discriminated based on preexisting conditions as we are among a monumental time in our nation's history with access to the health insurance Marketplace.
"In January, over a hundred and fifty thousand Floridian's gained access to affordable care that was never an option for them before. Get Covered America continues to honor Dr. King's legacy by empowering consumers to take action for their health care," said State Director Nicholas Duran.  "Many consumers have previously had to endure health plans that disqualified patients based on preexisting conditions or charge more just because of a patients gender. That is no longer the case and it's our duty to help those that have faced this inequality by helping them find the coverage that fits their needs and budget."
In Miami, the community took the message in to their own hands by reminding the community to #getcovered!
---
Did You Tune In?
January 22, 2014
Were you able to tune in for some of last week's Tell A Friend #GetCovered event? If not, you missed out on an action-packed six hours. Celebrities of all kinds — actors, musicians, comedians, and even a Lego artist — came together to spread one message:
Tell your friends to get covered.
Alphacat dressed up as the President. Richard Simmons showed us some of the latest exercise trends. Marlon Wayans had everyone laughing. Ryan Beatty and Bean played for us. And our very own Anne Filipic answered questions about why everyone should get covered.
But it wasn't all fun and games. There was a ton of useful information about the new health insurance options and how to sign up.
Did you already know these five facts?
Preventive care is now free.
If you get sick, your coverage can't be capped.
Financial help is available.
You can stay on your parents' plan until you're 26.
You can't be turned down for coverage if you're already sick.
It's not too late — if you missed the livestream, you can watch the video. Then tell your friends to get covered.
---
Get Started
Sign up to learn more about your health insurance options
Enroll Now
We're here to help you on your journey to get covered. We'll connect you to your state's Health Insurance Marketplace and let you know what to expect once you get there.
Get Enrolled
About Us
Our passionate staff is dedicated to helping people learn their health insurance options.
Volunteer With Us
Get Covered America is a grassroots campaign powered by volunteers. Sign up now to volunteer!
Partner with Us
If you're an organization interested in partnering with us, you can learn about opportunities here.